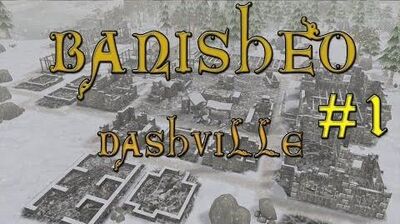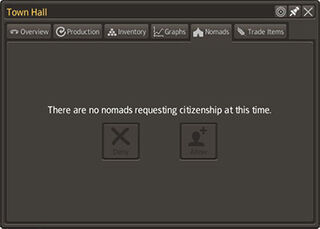 The Nomads are a group of citizens that migrate to your town from a neighboring region. To activate the randomized timer for which The Nomads spawn, you need to build a Town Hall. The minimum time to pass before Nomads arrive is 1 year. After the Nomads arrive you will see that under the Nomads tab there will be a notification, stating that they have arrived and are waiting for approval.
Accepting 
Edit
To accept/decline the Nomads into your town or city, you first need to build a Town Hall. After build your Town Hall you need to click on it, a window should than pop-up with an overview of your town. If you look at all the tabs you will see that there is a Nomads tab, Click on this and decide what you want to do with them.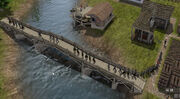 Pro's (*in some cases*)
Edit
Raises your total population
Gives you more Laborers to help bring in the food or other materials
Helps stabalize your town after the 1st generation families start to die of old age*
Bring different goods from their starting destination
Bring new diseases 
Can unbalance your town's population, food intake, or other material usage
Ad blocker interference detected!
Wikia is a free-to-use site that makes money from advertising. We have a modified experience for viewers using ad blockers

Wikia is not accessible if you've made further modifications. Remove the custom ad blocker rule(s) and the page will load as expected.